Limitless Ayatanas: Scorpion Seal and Werma Practice Intensive
con Acharya Judith Simmer-Brown
March 17 - 24, 2020
Discovering the Sacredness of Sense Perceptions through the Werma Sadhana
In some religious traditions, sense perceptions are regarded as problematic, because they arouse worldly desires.  However, in the Shambhala tradition, which is a secular tradition rather than a religious one, sense perceptions are regarded as sacred.  They are regarded as basically good.  They are a natural gift, a natural ability that human beings have.  They are a source of wisdom.
–Chogyam Trungpa, Rinpoche, from Shambhala: The Sacred Path of the Warrior
One of the most provocative teachings in the Werma Sadhana is that our ayatanas, or sense gates, are limitless.  This points to a difference from Buddhist teachings on sense perceptions, and highlights additional skillful means in our Shambhala practice.  This program introduces the profundity of these teachings through Werma practice, talks, and guided sensory exercises drawn from the Buddhist and Shambhala traditions. These practices widen our awareness of the ordinary magic of direct perception.  In this Werma program, we will explore how we might bring these practices into our daily lives as householders with relationships and livelihoods.  The vividly beautiful Casa Werma is a perfect place for exploring these profound teachings.
PREREQUISITE: Shambhala Werma Practitioner
---
Pay-It-Forward program tuition not including accommodations: $563 usd  We invite all who are able to do so to consider paying the Pay-It-Forward tuition rate. By doing so, you make it possible for us to offer scholarships to others, particularly our Mexico sangha, while also covering the direct cost of your stay here and contributing to our year-round operations. Please select "Pay-It-Forward Tuition Add-On" in Registration.
Full program tuition not including accommodations: $455 usd   We invite all who are able to do so to pay the full tuition rate.  By doing so, you cover the direct cost of your stay here and contribute to our year-round operating expenses.
Subsidized program tuition not including accommodations: 30% off Full Tuition  If the full tuition is unworkable for you, please pay the subsidized rate. By doing so you contribute towards the cost of your being here and everything it takes to keep Casa Werma operating year-round. Unfortunately, Casa Werma is not able to offer work/trade options at this time. Please type "SUBSIDIZED" in Discount Code in Registration.
Accommodations: There are several places to stay either onsite at Casa Werma or offsite as a "commuter" at our partner hotels.  A special discount of 15% is currently being offered to all of our retreat participants at Hotel Casa Encantada. Please use "WermaPP" discount code when making your reservation at their website.
Travel Arrangements: We recommend flights into Morelia airport (90 minutes away by car). We can help with travel arrangements, please inquire about options. Visit our How to Get Here page for more info.
 Please email [email protected] with any further questions.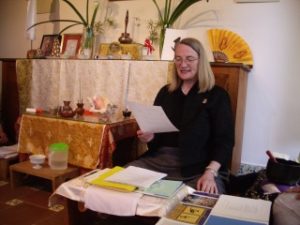 Acharya Judith Simmer-Brown
Acharya Judith Simmer-Brown, Ph.D., is Distinguished Professor of Contemplative and Religious Studies at Naropa University in Boulder, Colorado, where she has taught since 1978.  She has been a Shambhala Acharya since 2000, and teaches internationally. Her teaching specialties are meditation practice, compassion, Shambhala teachings, Buddhist philosophy, tantric Buddhism, and contemplative higher education.  Her book, Dakini's Warm Breath (Shambhala 2001), explores the feminine principle as it reveals itself in meditation practice and everyday life for women and men.  She has also edited Meditation and the Classroom:  Contemplative Pedagogy for Religious Studies (SUNY 2011). She and her husband, Richard, have two adult children and three grandchildren.  Books…
Learn more about Acharya Judith Simmer-Brown