Wind, Flag, Mind Moves – Writer's Workshop
con Lance Brunner
December 5, 2020
Wind, Flag, Mind Moves – a Binational Contemplative Writers Series.
Mindfulness and creativity in the time of quarantine has proven to be challenging. But now more than ever, as we find ourselves unable to go outward, we are presented with the opportunity to turn inward. The Wind, Flag, Mind Moves series is an offering of exchanges designed to inspire writers along the creative path.
Join us for this unique virtual line-up of readings, workshops and discussions, where we engage with notable authors and meditation practitioners as we explore the relationship of contemplative practices, social action, and the written word.
Presenter: Lance Brunner, Shambhala Teacher and University of Kentucky Professor
Workshop: The Blank Page and What is Found There: Creativity and the Courage Not to Know
"Alle Anfang es schwer." [All beginning is difficult.] -German proverb
Before we create something, there is nothing. Open space. Silence. Stillness. Not Knowing. A Blank Page.  Beginnings can bring with them fear or hesitation, as well as excitement and a need to dive right in.  But the ability to be present and hold that space open for receiving is a discipline and a practice that can open channels of creativity and compassion. In this two hour workshop we will explore how meditation and contemplation can serve us in our writing and in our creative lives.
DATE: Saturday, December 5, 2020
TIME: 9:00 am Pacific/ 10:00 am Mountain / 11:00 am Central / 12:00 pm Eastern / 1:00 pm Atlantic / 5:00 pm UK
This writers series is open to everyone; no prerequisites. This series is offered in English; however, Spanish interpretation will be made available for participants whose first language is Spanish. Please register early and let us know if that is true for you.
Writers Series hosted by Mayela Padilla and Tim Z. Hernandez, Sponsored by Casa Werma and the University of Texas El Paso Department of Creative Writing.
---
Virtual Workshop: $25 – $50 usd. This program offers tiered pricing to accommodate most instances of financial need.
We invite all who are able to Pay-It-Forward. This is a year long writers series and by doing so, you make it possible for Casa Werma to cover our costs and offer scholarships to our workshop participants. If you are unable to attend at the subsidized tuition rate, we do have scholarships available. Please email [email protected] to request a scholarship.
Program Details: This virtual event will be conducted on Zoom. At least 24 hours before the start time, a link to join the retreat will be shared with all registered participants via email.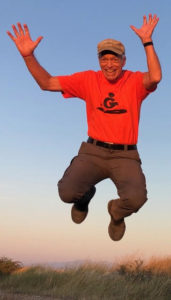 Lance Brunner
Lance Brunner is an experienced teacher in the Shambhala-Buddhist tradition, having directed Shambhala Training and contemplative arts programs and retreats for over twenty-five years, including seven "Summer Arts Dathuns" [month-long retreats] at Karme Chöling, Vermont.  He combines his interests in the arts, meditation, and action in the world through his consulting and facilitation, having worked with non-profits, health professionals, businesses, leadership programs, and within prisons.  A Kellogg National Fellow (1985-88) and the founding Director of the Commonwealth Fellowship Program for community leaders in Appalachia (1990-96), he has been a professor of music history at the University of Kentucky since 1976.
Learn more about Lance Brunner