Releasing 2021, Embracing 2022: A Meditation and Writing Retreat
con Joan Kling, M.S.
January 14 - 17, 2022
"There are years that ask questions and years that answer." Zora Neale Hurston
As humans we often hold onto resentments and hurts from past experiences. Hanging on to these real or imagined hurts prevents us from moving forward and being fully present to the ones we love, most importantly love of self.
This retreat will help you release any lingering thoughts, feelings, and actions from 2021 that no longer serve you or are causing you pain. It's about forgiveness of self first, and others second. We will practice daily meditation and write "letters never to be sent." We will express our hurts and disappointments and then write letters of forgiveness of actions or inactions of ourselves and those of others. We will end the retreat by asking the universe to manifest our specific hopes, desires, and dreams for 2022. This retreat includes daily continental breakfast, lunch and a local field trip to nearby ruins at Tzintzuntzan.
This program is open to all levels of meditation practitioners and writers; no prerequisites.
We invite all who are able to do so to pay the full tuition rate. By doing so, you cover the direct cost of your stay here and contribute to our year-round operating expenses at Casa Werma.
Early Bird Special $450 usd – Register by July 31, 2021
Full program tuition not including accommodations.
Registration $500 usd after August 1, 2021
Full program tuition not including accommodations.
Final Deadline to register for this program is December 15, 2021
Pay-It-Forward program tuition not including accommodations: $658 usd  We invite all who are able to do so to consider paying the Pay-It-Forward tuition rate. By doing so, you make it possible for us to offer scholarships to others, particularly our Mexico sangha (community), while also covering the direct cost of your stay here and contributing to our year-round operations.  Please select "Pay-It-Forward Tuition Add-On" in Registration.
Subsidized program tuition not including accommodations: 20% off Full Tuition  If the full tuition is unworkable for you, please pay the subsidized rate. By doing so you contribute towards the cost of your being here and everything it takes to keep Casa Werma operating year-round. Unfortunately, Casa Werma is not able to offer work/trade options at this time. Please type "SUBSIDIZED" in Discount Code in Registration.
Off Site Hotel Accommodations: For those who are interested in staying off site. We recommend the following hotels in Centro Patzcuaro:
All of them offer a discount to our participants if you mention "Casa Werma" and they are within 5-20 minutes walking distance to our meditation center.
Travel Arrangements:
We recommend flights into Morelia airport (90 minutes away by car). We can help with travel arrangements, please inquire about options. Visit our How to Get Here page for more info. All participant air travel will be offset by The Good Traveler carbon offset program.
 Please email [email protected] with any further questions.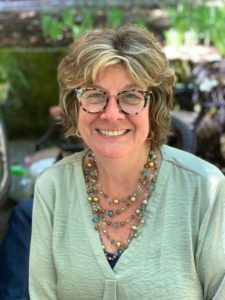 Joan Kling, M.S.
Joan Kling specializes in promoting peace and communication between individuals, teams and organizations. She excels in teaching self-leadership, team leadership and organizational leadership. Guided by the belief in everyone's intrinsic, unique value, Joan works tirelessly to bring out the best in everyone she meets. Her ability to see past the complexities of the human condition to the heart of every matter is unmatched. She is a certified professional coach, trainer, and keynote speaker guiding clients to create joy and embrace abundance in their lives. Joan uses writing to help others find the light within and to give them permission to let that light…
Learn more about Joan Kling, M.S.