Entrenamiento Shambhala Nivel 1: El Arte de Ser Humano
con Lance Brunner
October 6 - 8, 2023
El entrenamiento Shambhala es el estudio y la práctica de como convertirse en guerreo: vivir el momento presente sin miedo, con el corazón abierto y la compasión hacia todos. Se basa en las enseñanzas de Chogyam Trungpa tal como se presentan en el libro Shambhala: el camino sagrado del guerrero, enfatiza la técnica simple y profunda de la atención plena y la meditación consciente para ayudarnos a darnos cuenta de nuestro propio potencial y crear una buena sociedad humana en esta tierra.
El entrenamiento Shambhala Nivel 1: El Arte de Ser Humano es un programa de fin de semana que incluye instrucción y practica de meditación, lecturas, discusiones grupales y reuniones individuales con un instructor de meditación. El programa esta abierto a todas las personas de todas las religiones y tradiciones así como a aquellos que no siguen un camino espiritual en particular.
Nuestro director sera Lance Brunner, maestro muy respetado, conocido por la claridad de sus enseñanzas, calidez y humor. Estará ofreciendo este retiro en ingles, acompañado por una traductora de español.
Horario tentativo:
Viernes 6 de octubre, 2023, 6 pm – 8 pm, Charla pública.
Sábado 7 de octubre, 2023, 10 am – 7 pm, Retiro grupal (almuerzo y tentempié incluido)
domingo 8 de octubre, 2023, 10 am – 6 pm, Retiro grupal (almuerzo y tentempié incluido)
Este programa esta abierto al público; no pre requisitos. 
Cuota de recuperación no incluye hospedaje: $800 pesos/$50.00 USD. Estamos comprometidos a incluir personas de todos los niveles de ingreso; becas de acorde a cada situación económica estarán disponibles. Si necesita ayuda financiera, no dude en mandarnos un correo electrónico.
Arreglos de viaje: Les recomendamos volar al aeropuerto de Morelia (90 minutos en carro). Les podemos ayudar con los arreglos de su viaje, por favor pregunte por las opciones disponibles. Visite nuestro sitio How to Get Here  para más información. Todos los viajes aéreos participarán en The Good Traveler , programa de compensación de emisiones de carbono.
Si tiene preguntas adicionales sobre este programa, por favor envíenos un correo a: [email protected] 
Teacher / Maestr@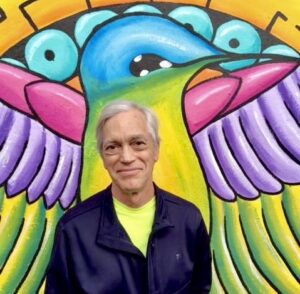 Lance Brunner
Dr. Lance Brunner is an experienced teacher in the Shambhala-Buddhist tradition, having directed Shambhala Training and contemplative arts programs and retreats for over twenty-five years, including seven "Summer Arts Dathuns" [month-long retreats] at Karme Chöling, Vermont.  He combines his interests in the arts, meditation, and action in the world through his consulting and facilitation, having worked with non-profits, health professionals, businesses, leadership programs, and within prisons.  A Kellogg National Fellow (1985-88) and the founding Director of the Commonwealth Fellowship Program for community leaders in Appalachia (1990-96), he has been a professor of music history at the University of Kentucky since…
Learn more about Lance Brunner