Wind, Flag, Mind Moves – Global Poetry Reading
con Daniel Chacón
May 7, 2021
Wind, Flag, Mind Moves – a Binational Contemplative Writers Series.
Mindfulness and creativity in the time of quarantine has proven to be challenging. But now more than ever, as we find ourselves unable to go outward, we are presented with the opportunity to turn inward. The Wind, Flag, Mind Moves series is an offering of exchanges designed to inspire writers along the creative path.
Join us for this unique virtual line-up of readings, workshops and discussions, where we engage with notable authors and meditation practitioners as we explore the relationship of contemplative practices, social action, and the written word.
Featured Guest: Daniel Chacón, Author & Literature Professor and UTEP Student Writers
DATE: May 7, 2021
TIME: 5:00 pm Pacific/ 6:00 pm Mountain / 7:00 pm Central / 8:00 pm Eastern / 9:00 pm Atlantic 
This is a one hour event that will feature selected readings by Daniel Chacón and UTEP Student Writers. The program will be moderated by Tim Z. Hernandez, Author and Professor from University of Texas El Paso.
This writers series is open to everyone; no prerequisites. This series is offered in English; however, Spanish interpretation will be made available for participants whose first language is Spanish. Please register early and let us know if that is true for you.
Writers Series hosted by Mayela Padilla and Tim Z. Hernandez, Sponsored by Casa Werma and the University of Texas El Paso Department of Creative Writing.
---
Virtual Global Reading: FREE by generous sponsorship. Suggested donation: $10 – $20 usd. We invite all who are able to Pay-It-Forward. This is a year long writers series and by doing so, you make it possible for Casa Werma to cover our costs and offer scholarships to our workshop participants.
Program Details: This virtual event will be conducted on Zoom. At least 24 hours before the start time, a link to join the retreat will be sent to all registered participants via email.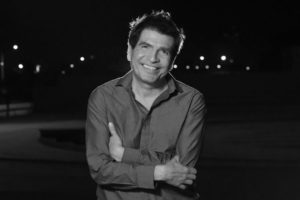 Daniel Chacón
Daniel Chacón's latest book of fiction is a novel called The Cholo Tree (2017).  He is author of Hotel Juárez: Stories, Rooms, and Loops (2013), which won both the 2014 Pen Oakland Award for Literary Excellence and the Tejas NACCS Award for Best Book of Fiction for 2013. His collection of short stories, Unending Rooms, won the 2008 Hudson Prize. He also has a another novel, and the shadows took him, and another collection of stories called Chicano Chicanery.  He is editor of the posthumous poems of Andrés Montoya, A Jury of Treesand co-editor of The Last Supper of Chicano Heroes: The Selected Work of José…
Learn more about Daniel Chacón