La Meditacíon en la Vida Cotidiana/Meditation In Everyday Life
con Gabriela Córdova Novion
December 13 - 15, 2019
UPDATE: This course has been rescheduled to Dec. 13-15, 2019.
Esta serie de cursos profundizan nuestra entendimiento de las enseñanzas de Shambhala y de la práctica de la meditacíon. Tanto con sesiones de meditacíon, con grupos de discusión, con pláticas como con otras actividades, uno puede encontrar esa sincronicidad de cuerpo y mente que permite revelarnos nuestra estabilidad, claridad y fortaleza mental innatas.
La Senda del Entrenamiento Shambhala es un compendio de cursos seculares de práctica y estudio adecuado para meditadores principiantes y experimentados, y abiertos a personas de cualquier tradición espiritual. Son descripción y experiencia completas de la meditación en atención plena y prácticas contemplativas que presentan la visión profunda, simple e increíblemente relevante de que cuando fomentamos una relación más despierta y compasiva con nosotros mismos y con los demás, estamos creando un mundo más despierto y compasivo.
Este programa está abierto a todos los niveles de practicantes; Sin requisitos previos. Se proporcionará traducción al inglés si lo solicitan. 
[English Translation] This series of meditation courses deepens our understanding of the teachings of Shambhala and the practice of meditation. Through meditation sessions, discussion groups, talks and other activities we will begin to synchronize our body and mind which allows us to reveal our innate stability, clarity and mental strength.
Shambhala's training route is a secular course of practice and study suitable for beginner and experienced meditators, and open to people of any spiritual tradition. This complete description of mindfulness meditation and contemplative life practices presents the profound, simple and incredibly relevant vision that when we foster a more awake and compassionate relationship with ourselves and others, we are creating a more awake and compassionate world.
This program is open to all levels of practitioners; no prerequisites. English translation will be provided upon request.
---
Full program tuition not including accommodations: $1450.00 Mexican pesos/$75.00 usd. We invite all who are able to do so to pay the full tuition rate. By doing so, you cover the direct cost of your stay here and contribute to our year-round operating expenses.
Subsidized program tuition not including accommodations: 30% off Full Tuition. If the full tuition is unworkable for you, please pay the subsidized rate. By doing so you contribute towards the cost of your being here and everything it takes to keep Casa Werma operating year-round. Unfortunately, Casa Werma is not able to offer work/trade options at this time.
Please type "SUBSIDIZED" in Discount Code in Registration.
Pay-It-Forward program tuition not including accommodations: $3560 Mexican pesos/$183.00 usd. We invite all who are able to do so to consider paying the Pay-It-Forward tuition rate. By doing so, you make it possible for us to offer scholarships to others, particularly our Mexico sangha, while also covering the direct cost of your stay here and contributing to our year-round operations.
Please select "Pay-It-Forward Tuition Add-On" in Registration.
Travel Arrangements:
We recommend flights into Morelia airport (90 minutes away by car). We can help with travel arrangements, please inquire about options. Visit our How to Get Here page for more info.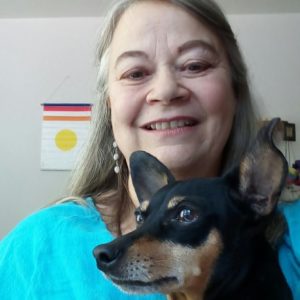 Gabriela Córdova Novion
Gabriela inició su camino con la meditación y el Budismo en 1994 y específicamente con Shambhala en 1996. Desde 2004 ha tomado roles de liderazgo en Shambhalacalli (Tepoztlán-Cuernavaca), en la Sangha de la Ciudad de México y en Casa Werma. En 2010 recibió el reconocimiento de Maestra Shambhala. Ha sido intérprete al español en Dechen Chöling Francia, nuestro Centro Regional Europeo, desde 2007 donde pasa casi cada año varios meses trabajando. Fue nombrada Heraldo del linaje Shambhala en 2016. Su manera sencilla, amena y a la vez profunda de compartir estas enseñanzas esenciales ha tocado los corazones de muchas personas…
Learn more about Gabriela Córdova Novion