El Contento en la Vida Cotidiana Programa Virtual
con Gabriela Córdova Novion
April 25 - May 30, 2021
Esta serie de cursos profundizan nuestra entendimiento de las enseñanzas de Shambhala y de la práctica de la meditacíon. Tanto con sesiones de meditacíon, con grupos de discusión, con pláticas como con otras actividades, uno puede encontrar esa sincronicidad de cuerpo y mente que permite revelarnos nuestra estabilidad, claridad y fortaleza mental innatas.
La Senda del Entrenamiento Shambhala es un compendio de cursos seculares de práctica y estudio adecuado para meditadores principiantes y experimentados, y abiertos a personas de cualquier tradición espiritual. Son descripción y experiencia completas de la meditación en atención plena y prácticas contemplativas que presentan la visión profunda, simple e increíblemente relevante de que cuando fomentamos una relación más despierta y compasiva con nosotros mismos y con los demás, estamos creando un mundo más despierto y compasivo.
Este programa está abierto a todos los niveles de practicantes; Sin requisitos previos. Se proporcionará traducción al inglés si lo solicitan. 
[English Translation] This series of meditation courses deepens our understanding of the teachings of Shambhala and the practice of meditation. Through meditation sessions, discussion groups, talks and other activities we will begin to synchronize our body and mind which allows us to reveal our innate stability, clarity and mental strength.
Shambhala's training route is a secular course of practice and study suitable for beginner and experienced meditators, and open to people of any spiritual tradition. This complete description of mindfulness meditation and contemplative life practices presents the profound, simple and incredibly relevant vision that when we foster a more awake and compassionate relationship with ourselves and others, we are creating a more awake and compassionate world.
This program is open to all levels of practitioners; no prerequisites. English translation will be provided upon request.
---
Costo completo del programa: $725.00 MXN pesos/$35.00 USD.
Costo completo del programa con donación para Casa Werma: $833.00 MXN pesos/$40.00 USD. Invitamos a todos los que puedan hacerlo a que consideren pagar el costo completo y hacer una donación para Casa Werma. Al hacerlo, nos permite ofrecer becas a otros, en particular a los miembros de nuestra comunidad de México.
Envíenos un correo electrónico a [email protected] con cualquier pregunta.
[English Translation]
Program Tuition: $725.00 MXN pesos/$35.00 USD.
Pay it Forward Tuition: $833.00 MXN pesos/$40.00 USD.  We invite all who are able to do so to consider paying the Pay-It-Forward tuition rate. By doing so, you make it possible for us to offer scholarships to others, particularly members of our Mexico sangha.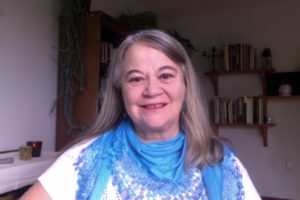 Gabriela Córdova Novion
Gabriela inició su camino con la meditación y el Budismo en 1994 y específicamente con Shambhala en 1996. Desde 2004 ha tomado roles de liderazgo en Shambhalacalli (Tepoztlán-Cuernavaca), en la Sangha de la Ciudad de México y en Casa Werma. En 2010 recibió el reconocimiento de Maestra Shambhala.
Learn more about Gabriela Córdova Novion